Chaos Tower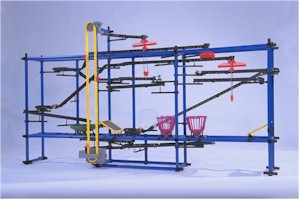 This is the current 'main' set that Chaos Toy offers. Originally named the 'Millenium Tower'.
The Educational Learning Toy Chaos Tower continues our tradition of innovative toy value. With over 600 pieces, Chaos offers infinite building possibilities and unlimited expansion potential. The Chaos Tower features the same benefits that have been the cornerstone of all of our sets. We continue to be the only construction /Physics Teaching toy that can be moved easily when the need arises. Why tear it down? Children can move it easily, whether fully or partially assembled. No tools are required for assembly, and a complete AC powered motor is standard with every kit. Lifetime warranty on all plastic parts means Chaos will continue to thrill for years and years.
Original price: $150.00. Current price: $120.00.